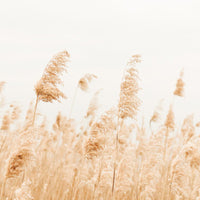 Sustainability
At Simple & Dainty, we put sustainability first because we love our planet! We use recycled gold and silver as well as recyclable packaging. We are also carbon neutral and certified! We offset all of our carbon emissions, and we contribute at least 1% of our annual sales to support approved environmental nonprofits around the globe. We're always evaluating our processes, materials, and overall effect on the environment.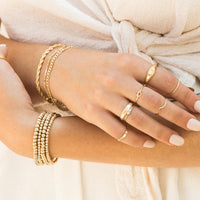 Materials
Our jewelry is manufactured using recycled gold and silver. Using recycled materials means we aren't mining for new raw materials - instead, we are using the materials that are already circulating the jewelry industry. This helps create less of a negative impact on our planet.

Our manufacturers follow strict guidelines and regulations to ensure the metals they use are recycled and refined in an ethical and environmentally friendly way. The refiners they work with follow strict standards, which include the following:

1. Refiners must be certified members of the Responsible Jewellery Council.

2. Refiners must be on the EICC/GeSI conflict–free compliant smelter list.

3. Refiners must be on the LBMA good delivery list.

4. Refiners use Green Silver Certified sterling silver that is not mined but recycled.

5. Refiners must go through third party Banks Certification audits. In order for these guidelines to be met, the refining process needs to be as clean and efficient as possible for the planet. We look at each step of the jewelry making process starting with the raw materials to ensure that we are as sustainable and eco friendly as possible.

Vermeil jewelry: Our vermeil pieces have a sterling silver base, which are made with a mix of new and recycled sterling silver. This helps keep the shiny surface of the jewelry, while also helping the environment by using recycled silver. The 2.5 microns of gold plated on top of the sterling silver also uses a mix of new and recycled gold.

We recycle all of our scrap materials through a refinery. This means anything that is defective or that we mess up on - like stamping discs, broken clasps, etc - don't get thrown away! We recycle it so that it can be made into new jewelry. If you have some broken jewelry from us that we can't repair, feel free to send it back so we can recycle it.

A big benefit to using high quality materials is that they last. Unlike fast fashion items, our jewelry is meant to be worn daily and for years! The less jewelry you buy throughout your lifetime, the less impact you put on the environment.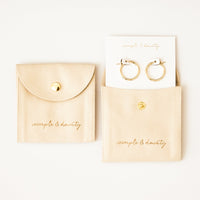 Packaging
We try to make the most amazing unboxing experience you can have for your new pieces, while making as little environmental impact as possible.
All of our packaging is recyclable - from our paper necklace cards, to our paper boxes, to our compostable mailers. We don't use any plastic in our packaging, and all of our paper media is made on recycled paper.
We also provide a free and reusable jewelry pouch for you to store your jewelry in when you're not wearing it. You can also opt out of receiving our free pouch!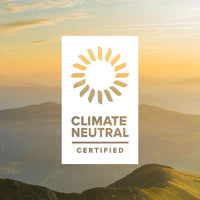 Carbon Neutral
We are carbon neutral! We're offsetting 100% of our carbon footprint through our partnership with Climate Neutral by contributing to multiple projects that are focused on combating climate change.
Climate Neutral is a nonprofit organization that helps brands measure their carbon footprint and become carbon neutral. Through their rigorous certification program, they verify that brands have achieved carbon neutrality by offsetting their greenhouse gas footprint with emission reductions and offsets. We were one of over 300 brands that Climate Neutral certified this year, and in total, we've helped neutralize around 700,000 tonnes of carbon emissions!
We measure our carbon footprint by looking at all of the emissions created from the start to finish of making and delivering our jewelry. This factors in every single step - from our supply chain emissions, packaging materials, commuting, utility bills from our studio, and everything in between. In 2020 alone, we offset 198 tonnes of our carbon footprint!
Climate Neutral offsets our carbon footprint by contributing to various environmental projects that recapture our carbon emissions and build a healthier environment. Last year, our offsets projects focused on restoring forests in Mexico, Colombia, and Papua New Guinea. We also contributed to clean energy projects, including solar energy fields in China and wind turbine energy in Turkey.
Now that we're 100% carbon neutral, we're focusing on reducing our future emissions as much as possible. Climate Neutral helps us define and reach these goals each year, pushing us to become even more sustainable than before.
Our efforts in becoming carbon neutral are just one of the many ways our brand is implementing better practices for the environment. We believe in Climate Neutral's mission - taking action now to help prevent further environmental destruction. We're just a small business in the grand scheme of things, but we believe all efforts matter, no matter how small they are.
If you are interested in learning more visit: climateneutral.org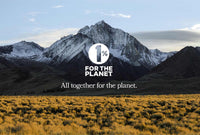 Giving Back
Simple & Dainty is a proud member of 1% for the Planet!
We pledge to donate at least 1% of our annual sales to support nonprofit organizations focused on the environment that we love and care for so deeply.
By contributing at least 1% of our annual sales along with thousands of 1% for the Planet members, they have raised over $300 million to support approved environmental nonprofits around the globe.
A little about 1% for the Planet and what they do:
1% for the Planet is a global organization that exists to ensure our planet and future generations thrive. They inspire businesses and individuals to support environmental nonprofits through membership and everyday actions. They make environmental giving easy and effective through partnership advising, impact storytelling and third-party certification.
Started in 2002 by Yvon Chouinard, founder of Patagonia, and Craig Mathews, founder of Blue Ribbon Flies, their business members and individual members have given hundreds of millions of dollars to their approved nonprofit partners to date.
Today, 1% for the Planet's global network consists of thousands of businesses, individuals and environmental nonprofits working toward a better future for all.
You can feel confident knowing that you made a purchase for the planet with us at Simple & Dainty :)
Learn more at onepercentfortheplanet.org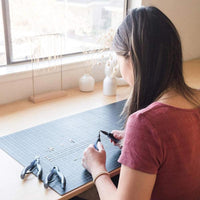 Studio
In an effort to be sustainable throughout each step of making your beautiful jewelry, we also keep a close eye on what we do in our studio.
Here are a few things that we do with sustainability in mind:
We recycle all of our metal scraps by having them refined and made into new pieces.
We are running on 100% renewable energy through Arcadia! Zero solar panels were needed. Arcadia purchases RECs (renewable energy certificates) on our behalf.
We ask our suppliers to use paper alternatives instead of plastic bags. If they can't, we reuse the zip bags that we receive.
We separate and recycle all office waste into appropriate bins.
We use recycled boxes and mailers for all of our shipments.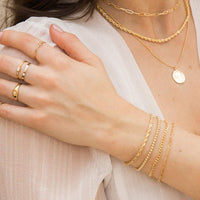 Future Sustainability
We are currently working on furthering our sustainability in the future by working on the following:
Carbon offset options for our customers at checkout
Carbon offset out entire company to become completely carbon neutral
Continue to only work with sustainable manufacturers
Keep an open dialog with our favorite and most important people (you!) to push ourselves further towards sustainability going forward!
Thanks for following along! As always, we love feedback and suggestions. If you have any ideas for us, please let us know at
support@simpleanddainty.com
. We love hearing what you have to say :)