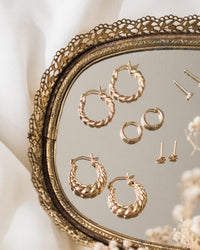 Our Story
We're a proud minority woman-owned small jewelry business based in San Francisco, California, where we create your pieces with love. We designed our sustainable, everyday jewelry to help you feel more empowered and confident as you take on your day!
Our jewelry is high-quality and doesn't break the bank. We use hypoallergenic materials (gold filled, gold vermeil, & sterling silver), so they're safe for you even if you have sensitive skin. You can wear them 24/7, whether you're in the gym, showering, or sleeping!
Thank you for stopping by & shopping small ♡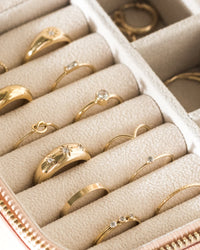 Our Promise
Sustainably made - we do everything with sustainability at the front of our minds. Our manufacturers use recycled gold and silver, and our materials can last the wear and tear of everyday life. We are against fast fashion - we don't believe in making pieces that you only wear once and then toss. All of our packaging is recyclable (plastic free!). Read more about our sustainability.
Waterproof & hypoallergenic - our gold filled, gold vermeil, and sterling silver are waterproof and safe for sensitive skin! They're very durable materials without the hefty price tag associated with solid gold. Read more about the different types of gold jewelry to see why we use gold filled & vermeil.
Free shipping & easy returns - we offer free US shipping, and even offer free returns if you choose store credit. We also offer free international shipping - (Canada - $125+, international - $250+). Read more about our shipping policy.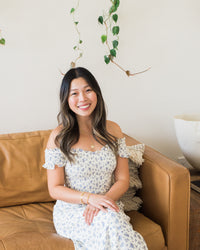 Our Beginning
The idea of Simple & Dainty stemmed from my passion for jewelry - I loved layering necklaces, but as a poor university graduate, I couldn't afford the best quality so I bought cheap jewelry instead. To my surprise, they turned my neck green! That's actually how the idea of Simple & Dainty started. I created Simple & Dainty as a jewelry brand that can withstand everyday wear, while also being affordable. It started as a small project to create dainty pieces for friends, family, and myself. Over the past years, it started growing more than I had ever imagined!
Now, we've sold pieces all over the world! All of our pieces are created with love in our little studio in San Francisco, and they're designed to help you feel more empowered and confident as you take on your day! We couldn't do this without all the support from our friends, family, and customers - whether it be encouraging words or a purchase. Thank you for helping us get to where we are today!
♡ Cindy